We are specialist designers, manufacturers and distributors of components for starting and controlling technical light sources. Our products are sold worldwide to discerning manufacturers, resellers and users.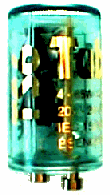 Unplug a conventional starter, replace it with TubeSaver and the lamp will start quickly with no flicker, last over twice as long and give more light. TubeSaver prevents unnecessary mercury pollution from spent lamps, never needs replacing and has multi-level intelligent electronic safety and performance monitors which protect all other components from faults preventing overheating and fire.
Ignitors for Sodium and Metal Halide High Intensity Discharge (HID) lamps are available for all lamps from 35

to 2,000 Watts. Our specially developed soft starting circuitry eliminates lamp sputtering providing extended lamp life and the unique super low loss design means very cool running leading to a very long ignitor life.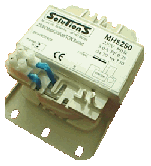 Ballasts for HID Lamps from 35-2000 Watts for display - floodlighting high and low bay, hydroponics etc..
Capacitors for lighting and Fused Terminal Blocks for safe connection of lighting and other circuits are available in a variety of ratings.

,
Pre Wired Gear Boxes for Sodium and Metal Halide Lamps.
Electronic Transformers for Halogen Lamps

in a variety of ratings and physical shapes.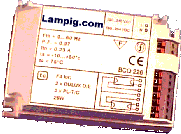 Electronic Ballasts standard and dimming for all Fluorescent lamp types.